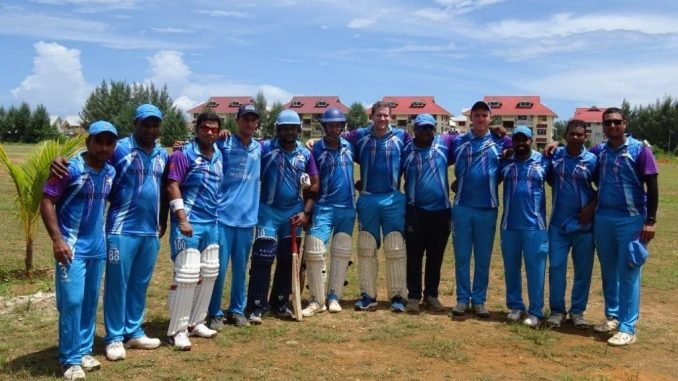 The final of the Vijay Cup was underway on a bright Sunday afternoon at the New Perseverance Stadium on 24th November. After winning the toss, the GSP 7 captain had no hesitation sending in Gran Kaz Kings to bat being unsure on how the new surface would play. This decision seemed wise upfront as the Kings lost Hari and Murray for ducks within 3 overs leaving Gran Kaz reeling 4 for 2. With early trouble, Islam was promoted at number 4 to steady the innings and with great support on the other hand by veteran Tim, they combined well to put on 46 runs for the 3rd wicket. Just as the innings was progressing well Krishna removed Tim for 24 to re-assert the brakes back on Gran Kaz Kings. Sandipan then joined Islam to put on a solid 45 run stand before being dismissed by Seenu for 21 in the 17th Over. With a late push for quick runs Islam finally fell for 42 (4 fours and 1 six) in the 18th over, courtesy a superb Yorker from Kalvin. With late contributions from Sanjay (12 runs), Tarak (13 runs) and Jayden (4), Gran Kaz Kings ensured they reached commendable total of 127 for 6 on a challenging wicket at the new stadium. The main pick of the bowlers for GSP 7 were Muthu (1-8), Krishna (1-21) and Senu (2-23).
Chasing a challenging total of 128, GSP 7 openers looked very confident upfront having struck 2 boundaries in the opening over. However with Rajiv, Krishna and Nataraj being dismissed in successive overs the chase looked in all sorts of mess having the scoreline stuck at 16-3. The Kings skipper Hari Krishna made maximum use of the slowness of the wicket, bowling an exception spell off 2-3 in 4 overs (including 2 precious maidens) bamboozling the opposition by spinning the ball both ways. The pressure exerted by Hari was taken to full advantage by the other seamers Rajiv, Neel, Murray and Sanjay as they combined as a force to run through the middle order of GSP 7. This regular fall of wickets did not allow GSP 7 skipper Babu to play his natural game as he had to patiently try to anchor the innings. From 22-6, Manoj (14 runs) and Babu tried to provide some momentum to the innings taking the scoreline to 51 for 7 before Babu was dismissed. At last Babu lost his patience and was trapped in front by Sanjay in the 13th over leaving GSP 7 innings all but over at 57-9. With 71 runs required off the last 7 overs, Seenu and Yakesh decided to play out the remaining overs as the task to knock off those runs seemed way too daunting. GSP 7 managed a final score 86-9, handing the Gran Kaz Kings a comfortable victory of 41 runs to claim the Vijay Cup of 2019.
Alongside, Hari's exceptional bowling spell, Neel and Sanjay claimed 3 wickets a piece, alongside Rajiv and Murray contributing with economic overs. The player of the match was awarded to Islam for his resilient innings of 42 runs under pressure and his formidable fielding skills to support the Kings' bowlers.