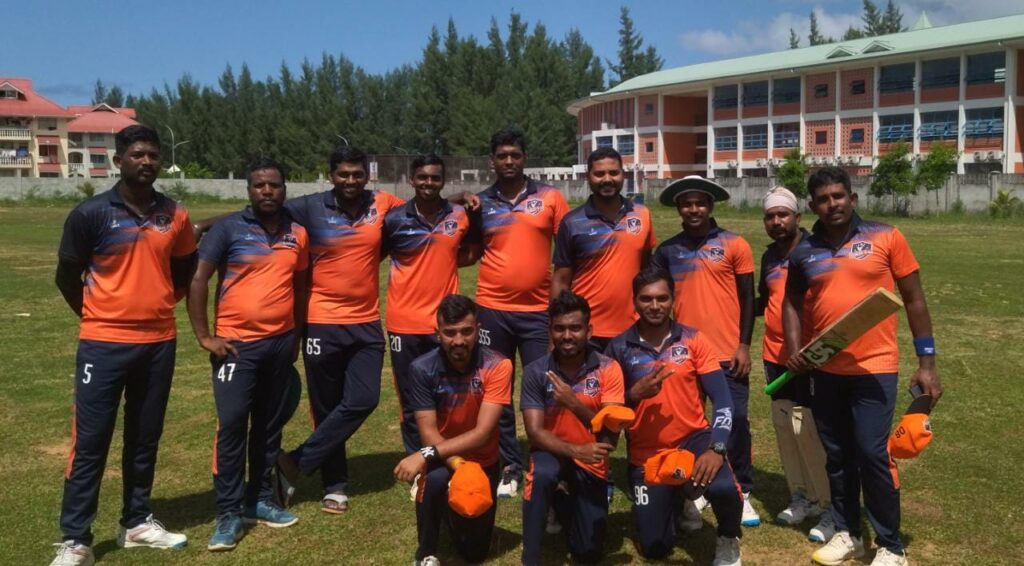 GSP'S- 7- A  & VIJAY WARRIORS WIN THIS SUNDAY'S GAME.
Match No.14 of Div 2 Gsp's7 -A played Lakstars-A was the morning match on Sunday the 8th April at the Perseverance cricket field. Winning the toss Captain Yakesh Subramanian of Gsp's opted to bat first.
A flashing opening partnership of 57 runs from Karthik 47(30) and selvakumar 18(26) set a foundation strong and the contribution from Vivek 33(31), Annith 14(11) and Vijayan 12(12) helped Gsp 7 A to score 152/6 at the end of 20 overs.
Lakstars A bowler Bandula P bowled well grabbing 3 wickets conceding 23 runs in 4 overs.
Upon Chasing Lakstars A batsmen Nilan scored a quick 31(11) but failed to continue as the bowlers of GSP's 7 A grabbed wickets at regular intervals. Despite a short cameo by Udara 25(35) and Thushitha 16(20) Lakstars-A only managed to score 117/10 by the 20th over and Gsp's 7-A won by 35 runs.
Gsp 7 A bowlers Karthik and Annith grabbed 3 wickets each.
Karthik of SP's 7-A was selected as the player of the match for his all-round performance.
In the afternoon match of Division.1 Vijay warriors played Grankaz Kings.
Winning the toss captain Byron Paul opted to bat first. Batsmen Tim Horpinitch 43(49), Byron Paul 10(30), M.D. Islam 20(17) helped the Kings with a good start but the batting order toppled and left the kings with a score of 105 runs at the end of 20 overs.
Vijay's Bowlers LALJI & MURJI bagged 2 wickets each.
Bowling next, Kings removed Vijay's opening batsmen Krishna Naidoo 4(3) in the very first over of the match. Despite Kings trying to tighten the run scoring, Vijay's Batsmen Hanish 24(54), Mukesh 22(18) and Murji 11(9) carried the warriors to win the match by 1 wicket in the 20th over of the match.
Bowlers Rohit, Rajeev and Tim of the Grankaz kings grabbed 2 wickets each.
Lalji Hirani of the Vijay Warriors was selected as the player of the match for bowling a magical spell of 4 overs and conceding just 6 runs and grabbing 2 wickets with 2 maiden overs in it.
Contributed by: Deepak Radhakrishnan/ Tournament Director for SCA