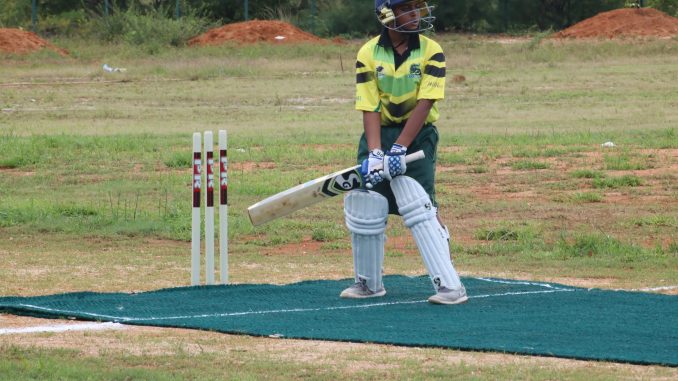 Seychelles Junior Cricket Tournament started on Saturday, 19 October and will end on 23 November 2019. The tournament will be for children from 10 to 16-yearsold and will be held every Saturday at the new cricket playing field at Perseverance.
The tournament was announced a couple of months after the South African professional cricket team, Multiply Titans visited Seychelles and held a coaching clinic for over 200 young cricket enthusiasts. The organizers have taken the opportunity not to let the clinic go to waste by introducing the Junior T10 Tournament.
It is the first time that Seychelles will witness such a tournament and the organizers expect to make it a recurring tournament if this one proves to be a success.
Confirmed teams are Plaisance Dragons, Caiman Champs, Mont Fleuri Warriors, Island Heroes, Master Blaster and Mahe Strikers.
Perseverance School is also expected to participate as the school is on good terms with Gran Kaz who has allowed the school to use the playing fields as their physical education area, after they built an all-in-one court for basketball, volleyball, handball and netball.
Most of the teams are formed from schools like Plaisance Secondary, Seychelles International School and mixed players from different schools make up the rest.
Gran Kaz has once again played a major role in facilitating yet another groundbreaking event related to cricket after they facilitated the visit of the Titans earlier this year to help raise funds for charity. This time they have facilitated all teams with uniforms, provided shelter from the sun and entertainment which is always a pleasure for them according to Grankaz CEO Jonathan Paul.
So far the only teams from the government schools are Plaisance and the children said. "We are enjoying the sport although we are not very good at it. With practice we are sure we can progress and we hope the league continues so that we can have real experience playing instead of just practicing at school." Their physical education teacher Miss Linda said: "It is a good initiative for the children. Our school has always participated and we always will. The sport was introduced in the school in 2012 but the children have not really had the proper interaction with the sport in terms of a competitive atmosphere but in general I would like to encourage other schools to take part and continue to grow the sport."
Cricket association treasurer Arup Das said: "From when we started cricket in Seychelles 20 years ago, today the sport has seen tremendous growth and it is basically what we have been fighting for all along and we hope we can engage more Seychellois players, Schools and teams to join the sport and help make it fun with the possibility of going further."