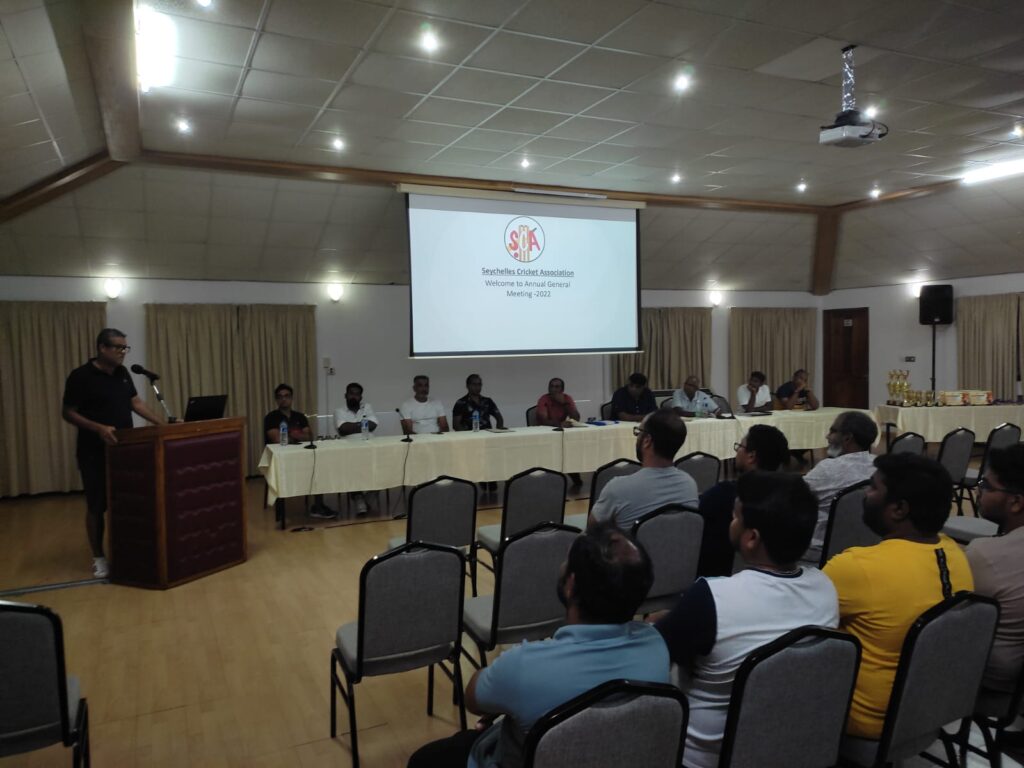 SCA AGM for 2022
The Seychelles Cricket Association organized their AGM for the year 2022 at the STC conference room on the 25th March 2023. The meeting was well represented with over 75 members present. The AGM included the adoption of the previous meeting minutes, the chairman's report by Mr.Kaushal Patel, where the chairman detailed the achievements of the year and the plans for the upcoming year which included further development of the perseverance ground, continuous kids cricket development and possible international women's cricket. Post the Chairman's report there was a detailed presentation by the Treasures Mr.Dharma —– of the financial statement for the year 2022. This was adopted by the members post some clarification. This brought to a close the official AGM which was followed by some presentations.
A detailed presentation of the Executive committee's achievements for the year 2022 by Mr.Bhavesh Goswami which included cricket field development at perseverance, activities conducted for Junior, men's and women's cricket development , number of matches played during the year and media coverage for each events. There was also a detailed presentation by Mr.Aruna Hathurusinghe and Mr. Suranga Fernando the managers of the Seychelles National Team that participated in a ICC tournament last year; of the team selection process and the details of the training plan.
With these information exchange the final part of the evening was the presentation ceremonies which included (Appreciation and recognition to Tournament Directors Mr. Deepak Radhakrishnan, Mr. Hitesh Hirani and Mr. Thiwanka Rajapaksha, special appreciation to Mr. Aruna Hathurusinghe for conducting Umpiring Coaching session, Award for Player of the Year 2022 under women's category to Ms Manisha Kanbi , Ms Geeta Hirani and Ms Malshini Senaratne for 1st , 2nd and 3rd position respectively, Player of the year under men category to Mr.Thimeera Madusanka (Sanka), Mr. D K Karthikkili and Mr. Md Mazharul Islam for 1st, 2nd and 3rd position respectively, Award for the Cricketer of the year for women Ms Manisha Kanbi and for Men Mr. Thimeera Madusanka , recognition to the Seychelles Cricket team players for their participation and GSP7 A has been awarded as Team of the Year for winning maximum trophies during 2022. )
The event came to a close at 8:30 where there were refreshments organised by the executive committee for the members present.