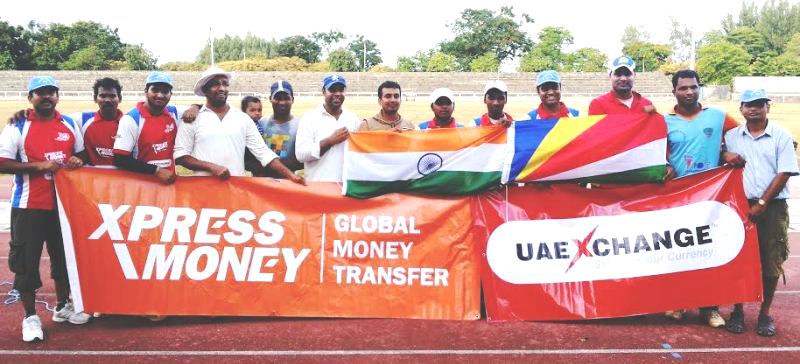 The big final of the Vijay League was played on Sunday August 3, 2014 at Stad Popiler where Lakstars were up against UAE Exchange Challengers (co-sponsored by Xpress Money).
This was a very entertaining and amazing final as a huge number of spectators turned up to support the two teams.
Being put in to bat first, Challengers lost Kiran very early, but a solid and smooth 2nd wicket partnership of 64 runs between Vivek and Sandesh laid a strong platform for upcoming batsmen. Vivek played a good hand of 20 runs which included 3 fours before being dismissed in the 11th over. The upcoming batsmen Sanjay (9 runs with 1 six) and Rajeev (17 runs with 3 fours) wasted no time and played the big shots. However, they could not convert their quick starts into a big knock.
At the other end Sandesh was playing a fluent innings and was striking the boundaries every now and then, thus reaching his 4th half century of the series.
At 113 for 5 in 15 overs, the Challengers looked set for a big total.
However, Sandesh lost support since from the other end wickets kept on falling one by one as the lower batsmen perished going for the big shot. Esar struck 2 fours in his cameo of 8 runs at the end.
Nevertheless, Sandesh's very cool and well composed knock of 65 not out (which included 11 fours) ensured that UAE reach a fighting total of 140 for 8 in 20 overs.
For Lakstars, Suranga picked up 3 wickets for 20 runs, Sohan picked up 2 wickets for 21 runs and Dharma bowled a tight spell of 1 for 19 runs in his 4 overs.
The Lakstars' run chase was off to the best possible start with openers Aruna and Janaka hitting boundaries at regular intervals putting on a 50-run opening stand in 7 overs. After striking 3 consecutive boundaries Aruna was caught in the deep scoring 26 runs (including 3 fours and 2 sixes). After that wickets kept on falling regularly as Ricky's spell dented the Lakstars run chase which included the wicket of Janaka (who made 20 runs with 4 fours). Ricky cleaned up Suranga also in his 3rd over, meanwhile Santosh got rid of Dilshan and the danger man Sanka.
The Lakstars' run chase was in tatters as they were reduced to 73 for 6 in 13 overs from 50 for 1 in 7 overs.
However, Sanjeev didn't give up as he kept on playing the big shots scoring 30 runs with 2 sixes and 3 fours. Sanjeev was running out of partners as Sohan and Dharma fell in quick successions to Kiran. Sanjeev's late assault finally came to an end as Sandesh picked up his wicket to give UAE the upper hand.
The Challengers' most consistent batsmen Sanjay completed proceedings with a direct hit running out Thusitha as Lakstars were bowled out for 106 runs in the 19th over. For the Challengers, Ricky bowled a terrific spell of 3 wickets for 9 runs in 4 overs and was well supported by Sandesh who picked up 2 for 23 and Santosh who claimed 2 scalps also. Rajeev also bowled an economical spell in his 4 over quota conceding just 16 runs.
This dominating all-round performance handed the UAE Exchange Challengers a 34-run victory and made them the champions of the Vijay Cup 2014.
UAE Challengers, a new team in local cricket, grabbed their first trophy for the season.
In this crucial and high tension match umpiring was very professionally handled by Kaushal and Mukesh from Vijay A.