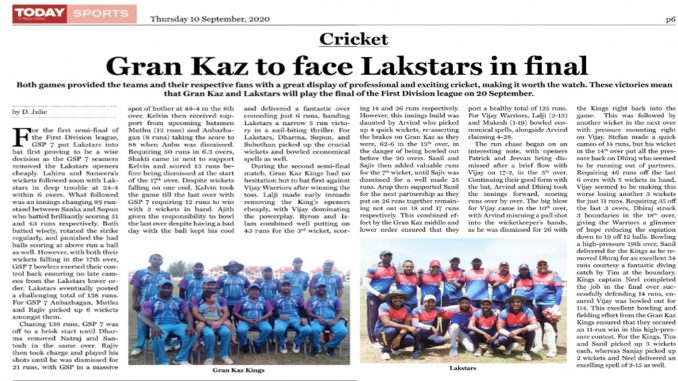 Both games provided the teams and their respective fans with a great display professional and exiting cricket, makingit worth the watch. These victories mean that Gran Kaz and Lakstars will play the final of the first division league on 20th September.
For the First semi-final of the division 1 league, GSP 7 put Lakstars into bat first proving to be a wise decision as the GSP 7 seamers removed the Lakstars openers cheaply. Lahiru and Sameera's wickets followed soon with Lakstars in deep trouble at 24-4 within 6 overs. What followed was an innings changing 89 run-stand between Sanka and Supun who batted brilliantly scoring 51 and 43 runs respectively. Both batted wisely, rotated strike regularly and punished the bad balls scoring at above run a ball as well. However, with both their wickets falling in the 17th over, GPS 7 bowlers exerted their control back ensuring that no late cameos from the Lakstars lower order. Lakstars eventually posted a challenging total of 138 runs. For GSP 7 Anbazhagan, Muthu and Rajiv picked up 6 wickets amongst them.
Chasing 138 runs, GSP were off to a brisk start until Dharma removed Natraj and Santosh in the same over. Rajiv then took charge and played his shots until he was dismissed for 21 runs, with GSP in a massive spot of bother at 48-4 in the 8th over. Kelvin then received support from upcoming batsmen Muthu (12 runs) and Anbazhagan (8 runs) taking the score to 88 when Anbu was dismissed. Requiring 50 runs in 6.3 overs, Shakti came in next to support Kelvin and scored 13 runs before being dismissed at the start of the 17th over. Despite wickets falling on one end, Kalvin took the game till the last over with GSP 7 requiring 12 runs to win with 2 wickets in hand. Ajith given responsibility to bowl the last over despite having a bad day with the ball, kept his cool and delivered a fantastic over conceding just 6 runs, handing Lakstars a narrow 5 run victory in a nail-biting thriller. For Lakstars, Dharma, Supun and Subothan picked up the crucial wickets and bowled economical spells as well.
For the 2nd playoff match, Gran Kaz Kings had no hesitation but to bat first against Vijay Warriors after winning the toss. Lalji made early inroads removing the Kings openers cheaply, with Vijay dominating the powerplay. Byron and Islam combined well putting on 43 runs for the 3rd wicket, scoring 14 and 26 runs respectively. However, this innings build was daunted by Arvind who picked up 4 quick wickets, re-asserting the brakes on Gran Kaz as they were, 62-6 in the 13th over, in the danger of being bowled out before the 20 overs. Sanil and Sajiv then added valuable runs for the 7th wicket, until Sajiv was dismissed for a well made 25 runs. Arup then supported Sanil for next partnership as they put on 26 runs together remaining not out on 18 and 17 runs respectively. This combined effort by the Gran Kaz middle and lower order ensured that they post a healthy total of 125 runs. For Vijay Warriors, Lalji (2-13) and Mukesh (1-19) bowled economical spells, alongside Arvind claiming 4-28.
The run chase began on an interesting note, with openers Patrick and Jeevan being dismissed after a brief flow with Vijay on 17-2, in the 5th over. Continuing their good form with the bat, Arvind and Dhiraj took the innings forward, scoring runs over by over. The big blow for Vijay came in the 10th over, with Arvind miscuing a pull shot into the wicketkeeper's hands, as he was dismissed for 26 with the Kings right back into the game. This was followed by another wicket in the next over with pressure mounting right on Vijay. Stefan made a quick cameo of 14 runs, but his wicket in the 14th over put all the pressure back on Dhiraj who seemed to be running out of partners. Requiring 46 runs off the last 6 overs with 5 wickets in hand, Vijay seemed to be making this worse losing another 3 wickets for just 11 runs. Requiring 35 off the last 3 overs, Dhiraj struck 3 boundaries in the 18th over, giving the Warriors a glimmer of hope reducing the equation down to 19 off 12 balls. Bowling a high pressure 19th over, Sanil delivered for the Kings as he removed Dhiraj for an excellent 34 runs courtesy a fantastic diving catch by Tim at the boundary. Kings captain Neel, completed the job in the final over successfully defending 14 runs, ensured Vijay were bowled out for 114. This excellent bowling and fielding effort from the Gran Kaz Kings, ensured that they secured a 11-run win in this high-pressure contest. For the Kings Tim and Sanil picked up 3 wickets each, whereas Sanjay picked up 2 wickets and Neel delivered an excelling spell of 2-15 as well.
Both the games provided the teams and their respective fans a great display of professional and exciting cricket making it worth the watch. These victories mean that Gran Kaz and Lakstars will play the final of division 1 league on 20th September.