Children from various schools across the country were treated to a day of fun while learning the techniques and rules of cricket on Sunday at the Freedom Square.
The Seychelles Cricket Association (SCA) has been in various schools promoting the sport, along with South African coach Johan Rudolph who is here to help raise the profile of the sport that is not so popular among the locals.
According to the SCA chairman Jonathan Paul, the event was organised as part of the association's efforts to introduce cricket to the children and to eventually get them to practice the sport and to later be able to have players for the under-19 team and the senior national side as well.
Mr Paul also stated that these events are not only to get kids to play cricket, but to also give them something positive to do with their time and reduce negative influences.
As for South African coach Johan Rudolph, who has also held the position of the Uganda national team coach in the past, he said the way forward is to get physical education (P.E.) teachers and coaches educated so that they can get cricket involved in the schools.
Mr Rudolph added that there must be more done to promote the sport and to make it more popular as although it is not popular, getting children involved at a young age can help unearth future talents in the sport.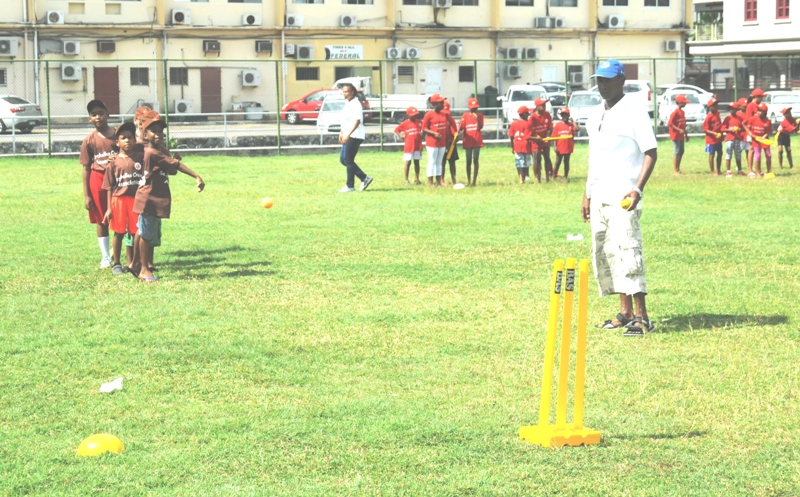 He also warned that progress will not come overnight, as it will surely take a lot of time and effort to get everything in place and to see the results of the work done.
Mr Rudolph was also coach for the Namibia National Team, Namibia Amateur Team, Namibia under 19 and the manager of the Namibia High Performance Programme from 2007-2012. As coach of Namibia, they managed to win the Intercontinental Shield for 2010 among other achievements.
For those unfamiliar with the rules of cricket, here is a short summary of the rules of the game: Cricket is played between two teams of eleven players each. One team bats, attempting to score runs, while the other bowls and fields the ball, attempting to restrict the scoring and dismiss the batsmen.
The objective of the game is for a team to score more runs than its opponent. In some forms of cricket, it may also be necessary to dismiss the opposition in order to win the match, which would otherwise be drawn.